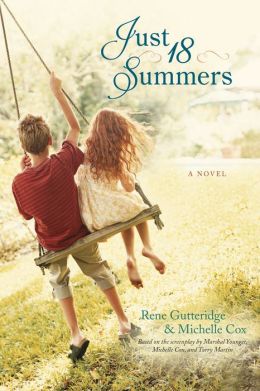 Photo from Barnes and Noble



Book description

From Goodreads

:

After the tragic death of Butch Browning's wife, Jenny, four families begin to realize how precious--and fleeting--their time together is. Each is at a different stage in life: Butch is facing single parenthood. The O'Reillys are expecting their first child. The Andersons are approaching an empty nest, and the Buckleys are so focused on providing their children with everything that they've forgotten what they truly need. With just eighteen summers before their children are grown, how do they make the most of that time when life so often gets in the way?As summer flies by, each of these parents must learn about guilt and grace . . . and when to hold on to their kids and when to let go.




Just 18 Summers by Rene Gutteridge & Michelle Cox

Four families face tough life lessons each in a unique, believable, and realist way. A parents worst nightmare comes true when Beth and Larry face an empty nest. Butch is left to face single parenthood after the death of his wife. Daphne and Tippy are preparing for their first child and Charles and Helen want their children to have everything they didn't. Their stories intertwine and make a great story.

I found Just 18 Summers to be refreshing and at times laugh out loud funny. The characters are down to earth and real. I could see me and my own daughter in this story. This is the first book I have read by Rene Gutteridge or Michelle Cox, but I plan to find more books by them. I really enjoyed this book. I recommend it to all that like Christian fiction. This book is worthy of 5 stars. It's a great book for parents in all stages of raising their children.

I want to give a high-five to the authors Rene Gutteridge and Michelle Cox and publisher Tyndale Fiction for bringing compelling Christian books that are entertaining and give hope to the reader with stories of faith. The Book Club Network Inc. provided me with this book in exchange for my honest review and I am so grateful for their, the authors and publishers generosity.