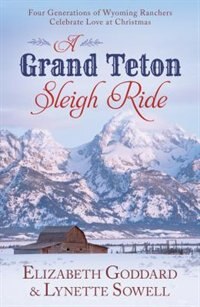 Photo from Indigo
About A Grand Teton Sleigh Ride: from Indigo
Wyoming's spectacular mountains have drawn many—from trappers to ranchers to skiing enthusiasts. This Christmas, spend the holidays with the Covington family, who have called Wyoming home for generations. Rough, bristly rancher Zebulon sets his sights on eastern lady Belle Murray. Forward-thinking Emily would rather stay a dog musher than become a bride. Outfitter Sam wants to make his name in Wyoming—not say "I do." Hayley's quest for her father's approval goes sour when she takes an interest in a local ski bum. Will four festive sleigh rides rein in romance?
My Review:
A Grand Teton Sleigh Ride, Four Generations of Wyoming Ranchers Celebrate Love at Christmas By Elizabeth Goddard and Lynette Sowell
A Grand Teton Sleigh Ride takes us on a adventure through four generations with the Covington family. The characters live in Jackson Hole, Wyoming from 1888 until present time. Each story highlights the way of life for that time period and the changes that came since the generation before them. They all have a magical sleigh ride in common. I fell in love with the characters and their stories especially Haley. For some reason her story just warmed my heart. The authors Lynette Sowell and Elizabeth Goddard did an outstanding job of brining life to the characters. Their stories are real, heartwarming and you find yourself caught up in their life. A Grand Teton Sleigh Ride is full of passion, faith and a belief that you can survive. The Covington family will inspire you to do great things with whatever you have. I give this inspiring book 5 stars and know anyone that if you enjoy historical romance and contemporary romance will find something to love about this book.
A Wedding for Bella by Lynette Sowell
Jackson's Hole, Wyoming 1888.
Bella Murphy has no living family after the death of her sister and brother in law died in a accident. She had been living with them in Jackson's Hole working toward their claim of the land. She only has the winter left before she can file a claim for legal ownership of the land. Zebulon Covington has promised Bella's brother in law that if anything should happen to him he would look out for Bella. He wants nothing more than to put her on a train back East to home. But Bella is bound and determined to stay, no matter how harsh the winter will be. Zebulon is sure he has no desire for a wife but can Bella can his mind? He finds her too proper and she finds him old and unrefined. Can a proper gentleman be hiding under all that hair? I found the characters to be spunky, fun and faithful. I loved the mules James and John that tended to act like the Sons of Thunder and found them to be an added bonus full of amusement.
I give A Wedding for Bella 5 stars.
A Mirage of Snow By Lynette Sowell
Jackson Hole, Wyoming 1919.
The city of St Louis, was closing in around Billy Will Adams. So he packed up and moves back to Jackson Hole. He went to school with Emily Covington and they had been great friends until the death of Will's father. At which time he and his mother moved back East. Now Billy had grown into Will, a lawyer and he has returned to Jackson Hole to settle down and build a practice. As Will and Emily start to develop feeling for one another Will's ex fiancée shows up bound and determined to win his affections back. This was a sweet story of long lasting love, the characters were down home friendly and full of faith. I enjoyed Will and Emily's story and found the author Lynette Sowell did a great job of bringing the character to life in a old fashioned love story. They were easy to fall in love with and believable. I give A Mirage of Snow 4 stars.
Winter Wonderland by Elizabeth Goddard
Jackson Hole, Wyoming 1929.
Anne Kirkland comes to Jackson Hole from Manhattan, New York, to take photographs for her fathers magazine. Once there she discovers the guide she hired has left her high and dry. Sam Covington wants to start his own guide business Anne will be his first customer. Both want their father to see them for their worth. Winter Wonderland is a great story of romance, faith and love. I feel in love with the characters and admired their strong moral ethic. Elizabeth Goddard did a great job with is story.
Ribbon of Light by Elizabeth Goddard
Present day Jackson Hole, Wyoming.
Haley Covington was expected to take over Covington Ranch like family members before her but she has other dreams. The last thing she want to do is let her father down. If only there was a way to run the ranch and follow her dreams. When Jim Taylor offers to feature her pottery in Blue Mountain Art Gallery, she discovers dreams can come true. Sparks fly when she meets Ty Walker the local sky bum, but he has nothing to offer Haley. But after meeting her he knows she is the one. Can meeting Haley be a answered prayer? Ty and Haley's story is full of faith that will inspire you to reach for the stars, and hardship and roadblocks that have the potential to stop you in your tracks. You will be find the inspiration to dream after reading this 5 star story. The author Elizabeth Goddard did an amazing job with this tale.
I want to give a high-five to the authors Elizabeth Goddard, Lynette Sowell and publisher
Barbour Books
for bringing compelling Christian books that are entertaining and give hope to the reader with stories of faith. I was provided with this book in exchange for my honest review and I am so grateful for the authors and publishers generosity.