Deceived, A Private Justice Novel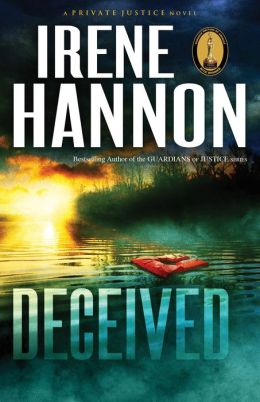 Photo and Book Description from Barns & Noble
About Deceived:A grieving mother. A mysterious child. And a dedicated PI who's determined to solve the puzzle.
For three years, Kate Marshall has been mourning the loss of her husband and four-year-old son in a boating accident. But when she spots a familiar-looking child on a mall escalator, she's convinced it's her son. With police skeptical of her story, she turns to private investigator Connor Sullivan for help. As the former Secret Service agent digs into the case, the boating "accident" begins to look increasingly suspicious. But if Kate's son is alive, someone is intent on keeping him hidden--and may go to lethal lengths to protect a sinister secret.
As Irene Hannon's many fans have come to expect, Deceived is filled with complex characters, unexpected twists, and a riveting plotline that accelerates to an explosive finish.

My Review: Deceived by Irene Hannon
ISBN 978-0-8007-2125-1
Christian Fiction, Romance, Suspense
On her husbands birthday Kate Marshall receives word her husband and young son Kevin have died in a tragic boating accident. Her life will never be the same. But on a lunch time trip to the Mall, she spots a young boy who is hauntingly familiar in his appearance and voice of Kevin. Can this be her son? Kate hires Conner's PI firm to help solve the puzzle of who Greg and Todd Sanders really are.
The Author Irene Hannon has done a fantastic job of bring a compelling Christian story to life with strong characters. She combines mystery, spine tingling drama and deception that results in a novel that will keep you at the edge of your seat. I give Deceived 5 stars and highly recommend it to all who love a good mystery, suspense, a little romance and Christian Fiction. Deceived is book 3 of the Private Justice. Book 1 Vanished & Book 2 Trapped were just as good and all can be read as a stand alone book.
I want to give a high-five to the author Irene Hannon and publisher Revell for bringing gripping Christian books that are entertaining and give hope to the reader with stories of faith. You hit it out the ball park with this one. I was provided me with this book in exchange for my honest review and I am so grateful for their, the authors and publishers generosity.