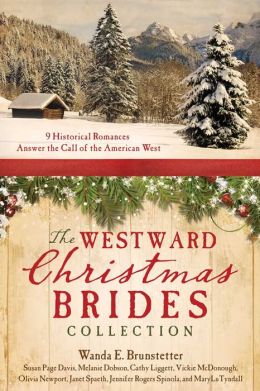 Picture and Book desciption from Barnes and Noble
Book Desrciption:
Take the journey into the American west alongside nine women who are chasing their dreams—Cynthia, for security; Beryl, for a new family; Adeline, for freedom; Molly, for marriage; Beth, for a new start; Belinda, for a place to heal; Suzette, for adventure; Juliet, for peace; and Caroline, for a future for her children. Celebrate Christmas alongside these pioneers as love finds them in nine distinctly different romances penned by leading Christian fiction authors, including New York Times bestselling author Wanda E. Brunstetter.
My Review: The Westward Christmas Brides Collection by Wanda E. Brunstetter, Susan Page Davis, Melanie Dobson, Cathy Liggett, Vickie McDonough, Olivia Newport, Janet Spaeth, Jennifer Rogers Spinola, and Mary Lu Tyndall
ISBN 978-1-62836-812-3
Historical, Christian, Romance, Fiction
The Westward Christmas Brides Collection is nine Historical romances. Each novel is set in the west in the 1800's. All are seeking a new life and a new place to call home. Each author has put their spin on the perfect Christmas for any bride. I have discovered a few new authors to me. I could never pick the best story because they are all fantastic. I give The Westward Christmas Brides Collection 5 stars, great job ladies. If you enjoy historical fiction I highly recommend The Westward Christmas Brides Collection to you.
A Christmas Prayer by Wanda E. Brunstetter
April 15, 1850 three covered wagons set out to travel the wild west from Independence, Missouri to the land of opportunity, California. All travelers are strangers from different walks of life. Cynthia Cooper travels with her mother Mabel and fiancée Walter. While Cynthia is fun loving and full of life her mother and Walter are spoiled snobs. Jack Simpson travels with his children 4 year old Alan and 6 year old Amelia. They come from Cedar Rapids, Iowa looking for a new beginning. Amelia has not spoken a word since witnessing the tragic death of her mother. Cole is a blacksmith from Kutztown, Pennsylvania. He is traveling with his adventurous sister Virginia. He wants to marry some day but wants to find gold first. She would love to teach again but needs to get away from the place she was jilted. As they make the long tedious journey the only thing that helps them survive is blind faith. This was a great story filled with faith.
Another Christmas Story by Susan Page Davis
Nineteen year old Beryl Jenner travels in a large train caravan through Nebraska Territory in 1856. When a tragic accident strikes, her and her young brother are stranded in Chiswell Rock at the trading post. The are left to survive by the kindness of strangers. James Lassen and his family do everything in their power to help the Jenner's. They give and care for others like the Samaritan in the Bible. Not expecting anything in return but giving their all. This is a great story of compassion. I really enjoyed this story and found the author did an outstanding job.
The Reluctant Runaway by Melanie Dobson
Omaha, Nebraska December 1889 Lavinia Kathryn Starr is on the run from her evil step brother Patrick. As she boards a train for New York City Patrick closes in on her. She is on the run again this time on a train to parts unknown. Isaac Loritz sees Lavinia soon after he arrives in Aspen, Colorado, he offers his assistance but is turned down. Later when he finds her in his barn they form a friendship of sorts. As trust builds will their new friendship stands up to the pressure of money. This was a phenomenal story of trust and faith, with romance and a little trepidation.
A Stagecoach Christmas by Cathy Liggett
Western Missouri 1849 It wasn't a knight on a white horse that showed up to rescue the passengers of the stagecoach but a rancher looking to start over running away from Christmas. They were headed to Huxley to join family and friends for Christmas when the weather stops them in their tracks. Charlotte Crandall and her elderly mother Ms Vivian, barrister Benjamin Cottingham and his 6 year old granddaughter Melissa and driver Daniel Becker like Molly all had big plans. Molly O'Brien was looking to start a new life only to find herself on a rowdy ride. Samuel Harden finds instant attraction to the spunky redheaded spitfire he rescues. The passengers of the stagecoach end up on a deserted ranch owned by Samuel and find their best Christmas yet. This was a great novel about grief turned to joy. I really related to the characters.
Forging a Family by Vickie McDonough
Advent, Texas 1890 Beth Ruskin, is a agent with the Children's Aid Society, delivering kids to their new families. When a flash flood leaves her and her father stranded in Advent Texas, she helps her father care for patients. She first sets eye on the local blacksmith Cade Maddox when he brings a injured man to her father. It's love at first sight for Beth. Cade struggles with caring for his young daughter a overworked single man. He wonders if own Orphan Train daughter would be better off with a regular family. This is fantastic story of love and sacrifice that all parents face. I fell in love with the characters and I am sure you will too.
Snow Song by Olivia Newport
1871 Belinda Michaels is heartbroken when Hayden Fairbanks does not show up for their engagement dinner. She is so hurt she hops a train to San Francisco only to run into him and a young child. When the train is snowed in all passengers and Belinda are left strained on the tracks. Can she find a way to trust Hayden again and give him another chance? Read this terrific book to find out. Olivia Newport is a new author to but I really enjoyed her story.
Christmas, Maybe by Janet Spaeth
For as long as Suzette Longmont can remember she has dreamed of the wild untamed nature of paradise, riding horseback with her hair blowing out behind her. But she was born into a life of privilege. She was expected to cook gourmet meals, keep a well decorated home for entertaining but she failed miserably. She jumps at the chance to help family in the Dakota Territory when relatives need help. Boring Harrison, the man that she was promised to marry in a arrangement marriage, decides to follow her there in fear of losing her forever. As she settles into a new routine she discovers there is more to Harrison than she ever thought. Can they make a relationship work? Read this faith filled novel to find out.
The Christmas Bread by Jennifer Rogers Spinola
September 1865 Juliet followed in her father footstep as a doctor. Jacob Pike a confederate war hero is on the same wagon train as Juliet. They face tragedy, sickness and are caught in the cross fires of a war that should be over. As they fight for their lives Juliet's atrocity toward Jacob softens into something far more likeable, maybe even a fondness or love as the wagon train travels. This is a great story showing how nothing is impossible with God. By far this story will pull at your heartstrings like none of the others. I enjoyed my fist book by Jennifer Rogers Spinola very much.
Christmas Bounty by MaryLu Tyndal
Santa Barbara, California 1855 Caroline Moreau is a widowed mother of two, trying to keep her husbands dreams alive. But barely keeping Moreau Winery alive. As her and her children leave market they come across a public hanging in town square. They only thing that will save Pirate Dante Vega from hanging for his crimes is if a single lady will marry and make a decent man out of him. Caroline is in need of some one to protect her, the children and vineyard. Could Dante become the man of her dreams and save them? You will have to read this fantastic book to find out. Caroline is filled with a unbreakable faith that will inspire you. This was a glorious novel.