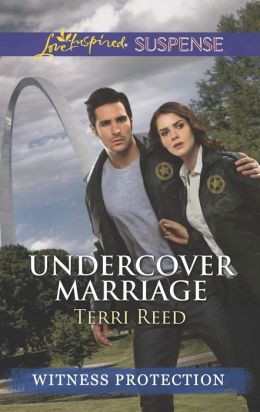 Photos and Description from Barnes & Noble
Book Description: THE BABY MISSION
An illegal adoption ring—using kidnapped babies—has to be stopped. To gather the necessary evidence, U.S. marshal Serena Summers goes undercover—as a married woman desperate for a baby. Her "husband" is her own partner, U.S. marshal Josh McCall, whom Serena blames for her brother's death. How can she act like a loving wife when she has to constantly fight her feelings for a man she isn't sure she can trust? The closer they get to unraveling the dark web of deceit, though, the more being Josh's undercover wife means putting her life—and future—in his hands.
Witness Protection: Hiding in plain sight
My Review:
Undercover Marriage, Witness Protection: Hiding in plain sight by Terri Reed
ISBN 978-0-373-44600-1
Love Inspired Suspense
Inspirational, Romantic, Suspense
U.S. Marshall Serena Summers is aloof and distant toward her partner U.S. Marshall Josh McCall. She blames him for the death of her brother. They are working an illegal adoption ring case together and get asked to pose as a undercover married couple. The put their dislike and distrust of each other aside to find out who is kidnapping babies and putting them up for adoption. I enjoyed how forgiveness was played out in this book.
I really enjoy this book. I find it to contain action and suspense around every corner. It was fast paced, had intense drama and was a great read. The characters were realistic and well developed. The main characters have a deep-seated faith with hint of strong family values. Undercover Marriage is book 6 in the Witness Protection Series: Hiding in plain sight. It can be read as a stand alone, in fact I did not realize it was part of a series until I started reading the inside cover. Then I realized I had read book 2 The Baby Rescue by Margaret Daley. It was also a great book. I highly recommend this book and can not wait to read more in this series. I give Undercover Marriage 5 stars.
I want to thank the author Terri Reed and publisher Love Inspired Suspense for bringing good clean Christian books like this one to readers like me.
Also check out these other great books: