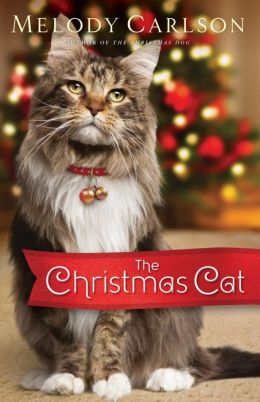 Photo and Back Cover from Barnes and Noble
Back Cover: He felt his face flushing as Cara opened the door. Wearing a garnet-colored knit dress and with her dark hair pinned up, she looked even prettier than he remembered. Suddenly he wished he'd thought to bring a hostess gift. Like a cat.
My review:

The Christmas Cat Melody Carlson
Revell
Christian Fiction, Contemporary
ISBN 9780800719661

Not long after serving in the missionary field of Uganda, Garrison Brown has losses his grandmother. He is now in charge of finding good homes for her 6 beloved cats. Only problem is he is highly allergic and dislikes cat's. His grandmother once teased him asking if he had traveled halfway across the globe just to escape her furry felines. Viola was the top cat but was slightly moody, Rusty was easy going and was the clown cat, Spooky was very moody and anti social, Oreo was black & white, Muzzy was very vocal and her favorite Harry was a Maine Coon that looked like a raccoon. Finding homes for them should have been easy except for her specific stipulation for each cats new home. I fell head over heels in love with these cats and their sweet story.

Quote " He smiled at Garrison. "and you can have the pleasure of playing Santa Claus."

The Author Melody Carlson's love for cats really shined in this cat tail. You can't help but fall for the feline characters especially Harry. I really enjoyed the love Garrison's grandmother had for her beloved furry children and the extent she went for their well being.

I want to thank the author Melody Carlson and publisher Revell for bringing clean, fun Christian books like this one to readers like me. I was provided with this book in exchange for my honest review.