Risking Their lives to save the day!!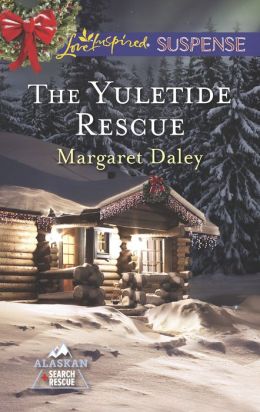 Back cover & Photo from Barnes & Noble
Back Cover: MISTLETOE & MURDER
When Dr. Bree Mathison's plane plummets into the Alaskan wilderness at Christmastime, she is torn between grief and panic. With the pilot—her dear friend—dead and wolves circling, she struggles to survive. Search and Rescue leader David Stone fights his way through the elements to save her. David suspects the plane crash might not have been an accident, spurring Bree's sense that she's being watched. But why is someone after her? Suddenly Bree finds herself caught in the middle of a whirlwind of secrets during the holiday season. With everyone she cares about most in peril, Bree and her promised protector must battle the Alaskan tundra and vengeful criminals to make it to the New Year.
My Review:
The Yuletide Rescue, Alaskan Search & Rescue by Margaret Daley
Love Inspired Suspense
Suspense, Romance, Christian Fiction
ISBN 97803736377
As Dr. Bree Mathinson returns home with family friend and pilot Jeremiah, he suffers a heart attack and crashes the plane. Alone in the Alaskan wilderness, to face subzero temps and a pack of wolves, Bree fights to survive. David Stone with Northern Frontier Search and Rescue Organization races to her rescue. As they are leaving the crash site armed men descend upon the plane. Later the plane is stolen and Bree's home and office are trashed and searched. Her friend and coworker is kidnapped. Bree's quite life is in turmoil. Her heart is broken over the death of a friend and the unknown about his life.
Quote, "What were you up to Jeremiah?
Where did the money come from?
Why are people after me?"
The author Margaret Daley did an outstanding job of intertwining faith into this action packed suspense book. The characters were well developed and believable. The storyline is well thought out, fast paced and jam-packed with action. I give The Yuletide Rescue 5 stars and highly recommend this faith filled book. I really enjoy this book and many others by this author.
I want to thank the author Margaret Daley and publisher Love Inspired Suspense for bringing good clean Christian books like this one to readers like me. I was provided with this book in exchange for my honest review.