My Amish Boyfriend By Melody Carlson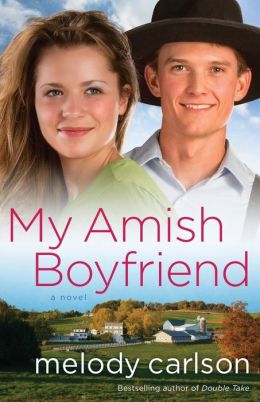 Overview:
Shannon's summer just got a whole lot more . . . Amish?
Shannon McNamara has exciting plans for the summer—getting her driver's license, a job, and more—and she can't wait to dive in. But her ill mother has plans of her own: to relocate them both to the heart of Amish country in Ohio where she has relatives who can help her.
Turns out a "simple" life is actually a lot of hard work. But when a hot young Amish guy named Ezra enters the picture, Shannon's ready to get an Amish makeover and even consider making it a permanent change. Will these plans come crashing down around her too? Or can she really make the jump into a whole new way of life?
Teen favorite Melody Carlson brings fans another surprising story of worlds—and families—colliding.

My Review:
When 16 year old Shannon McNamara's mother becomes ill her summer plans take a drastic turn. Shannon is a born and breed city girl but circumstances force her to spend the summer with her Amish grandparents she didn't know she had. Too her surprise Shannon takes to the simple life of the Amish. Life gets even better when she meets Ezra the handsome boy next door. He was raised Amish and is trying to figure out if he will be baptized or move on as an Englisher. Read this great book to see if Shannon and Ezra can make a go out of it. I enjoyed watching her grow and mature as she worked hard at being Amish and feel in love. I highly recommend this book and promise you will not be disappointed by it.
I did not realize when I got this book it was Teen Fiction. Although this book can be found in the teen section it can be read and enjoyed by all lovers of Amish Fiction, by teens and adults alike. I found it very well written and really enjoyed My Amish Boyfriend. I give this book 4 stars. It is full of twists and turns, faith and family dynamics.
I want to thank the author Melody Carlson and publisher Revell for bringing good clean Christian books like this one to readers like me. I was provided with a copy of this book in exchange for my honest review.
About the Author:
Melody Carlson is the award-winning author of more than two hundred books, including the Life at Kingston High series, The Dating Games series, Double Take, and A Simple Song. She has received a Romantic Times Career Achievement Award in the inspirational market for her many books, including the Diary of a Teenage Girl series and Finding Alice. Melody and her husband live in Oregon. Find out more at www.melodycarlson.com.