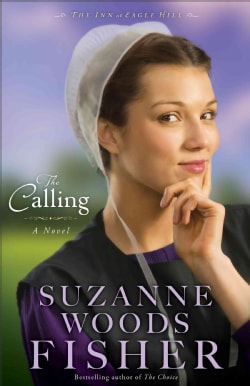 Book Description: Twenty-year-old Bethany Schrock is restless. Her love life has derailed, her faith hangs by a thread, and she is spending the incredibly hot summer days wading through a lifetime's accumulation of junk at the home of five ancient Amish sisters. About the only thing that holds her interest is the spirited and dangerously handsome Jimmy Fisher--and he seems bent on irritating her to no end.

When the sly old sisters and a guest at the Inn get Bethany involved in running the local soup kitchen and starting a community garden, she suddenly finds herself wondering, Shootfire! How did that happen? Despite her newfound purposefulness, a gnawing emptiness about a childhood mystery continues to plague her. Encouraged by Jimmy Fisher, she will seek out the answers she craves--and uncover a shocking secret that will break her heart, heal it, and point her to love.

Bestselling author Suzanne Woods Fisher delivers her trademark twists, turns, and tender romance in this delightful and exciting visit to the deceptively quiet community of Stoney Ridge.
My Review:The Calling was a remarkable Amish book. Bethany Schrock a young Amish woman is living on edge after a bad break up. She is being harassed by Jake Hertzler. And has just discovered her mother she thought abandoned her is really living in a home for the mental ill. Her days and nights are lived in fear of becoming mentally ill. Jimmy Fisher has his eyes on Bethany. She has doubts about his sincerity and does not trust her own feelings. She is able to find guidance and relief with the antics of the 5 sisters of the Sisters House and out of work English pastor Geena Spencer.
I loved the dynamics of the characters. The author Suzanne Woods Fisher handled the arduous subject of mental illness with integrity and respect. I found her facts to be right on. This book had a little of everything, mystery, romance, humor and to top it off was full of a strong faith. I give The Calling 4 stars.
I want to give a high-five to the author and publisher for bringing compelling Christian books that are entertaining and give hope to the reader with stories of faith. Revell a division of Baker Publishing Group provided me with this book in exchange for my honest review and I am so grateful for their, the authors and publishers generosity.
Author: Suzanne Woods Fisher is the bestselling author of "The Letters," the Lancaster County Secrets series, and the Stoney Ridge Seasons series, as well as nonfiction books about the Amish, including "Amish Peace." She is also the coauthor of an Amish children's series, The Adventures of Lily Lapp. Suzanne is a Christy Award finalist and a Carol Award finalist. She is the host of internet radio show "Amish Wisdom" and a columnist for "Christian Post" and "Cooking & Such" magazines. She lives in California. For more information, please visit www.suzannewoodsfisher.com and connect with her on Twitter @suzannewfisher.