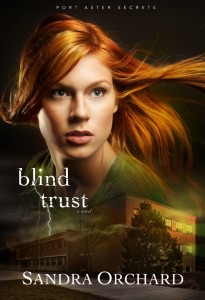 Book Description: Blind Trust, Port Aster Secrets Book #2
Releases June 2014
Kate Adams had no idea she was carrying counterfeit money, and she can't believe that it came from her sweet neighbor. Or that it lands her in the middle of another one of Detective Tom Parker's investigations. Determined to prove her neighbor's innocence, Kate stumbles into a pit of intrigue that is far deeper than a two-bit counterfeit operation–and strikes too close to home for comfort. As family secrets come to light, her world–and her budding romance with Tom–begin to crumble. To Kate, it's clear that she won't be safe until she uncovers all of Port Aster's secrets. But is it too late for her and Tom?
My Review:
Kate Adams finds herself in the middle of a two-bit counterfeiting ring when she is caught passing counterfeit bills from her elderly neighbor. Detective Tom Parker is sent yet again to investigate Kate. They fight a growing attraction as they try to prove her innocence and save her beloved neighbor from her greedy son. As if that was not enough she is being followed, a big corporation is endangering her research, she is falsely accused and being deceived. This is the first book I have read from author Sandra Orchard but it surly will not be the last. Blind Trust is book two in the Port Aster Secrets series. I have to wonder what I missed by not reading book one, Deadly Devotion. I was somewhat upset with the cliff hanger ending but will be sure to pick up book three. I found the characters to be well thought out and developed. The story line is fast paced, full of suspense and a hint of romance. I give Blind Trust five stars and have added Sandra Orchard to my list of great authors that I look forward to reading from.
I want to give a high-five to the author Sandra Orchard and publisher Revell for bringing compelling Christian books that are entertaining and give hope to the reader with stories of faith. I was provided a copy of this book in exchange for my honest review and I am so grateful for the authors and publishers generosity.
About the author:
Sandra Orchard is an award-winning author of inspirational romantic suspense with Harlequin's Love Inspired Suspense imprint, and Revell Publishing. She is an active member of American Christian Fiction Writers, Romance Writers of America and The Word Guild (Canada). A mother of three grown children, she lives in Niagara, Canada with her real-life-hero husband and now writes full time…when not doting on her young grandchildren. You can learn more about Sandra's books and bonus features at
www.SandraOrchard.com
or connect at
www.Facebook.com/SandraOrchard
.
Other Books By Sandra Orchard