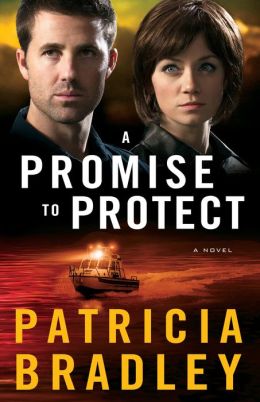 Photo & description from Barnes & Noble
Book Description: In a steamy small town riddled with broken promises, one woman's secret could change everything.

Acting Sheriff Ben Logan hasn't heard from Leigh Somerall in a very long time, but it doesn't mean he can get her--or their whirlwind romance of ten years ago--out of his head. When she calls out of the blue, it is with a strange request to protect her brother, Tony. But all too soon, Ben is charged with a different task--protecting Leigh from the people after her brother. With Leigh doing everything in her power to avoid Ben, it's no easy task. And the secret she is keeping just may change their lives forever.
"A taut story of mistakes and betrayal, a mother's fierce love, revenge and danger--and the redeeming wonders of faith and love."--Lorena McCourtney, author of the Cate Kinkaid Files and the Ivy Malone Mysteries
"Old secrets, second chances at love, and a skillfully crafted small-town suspense. You will fall in love with Ben and Leigh and cheer them on as they fight for their happy ending. I'm making room on my shelf for all of Patricia Bradley's novels!"--Susan May Warren, bestselling and award-winning author of When I Fall in Love
Patricia Bradley is the winner of a 2012 Daphne du Maurier Award and a 2012 Touched by Love Award and was also a finalist for the 2012 Genesis Award. The author of Shadows of the Past, she is a member of American Christian Fiction Writers and Romance Writers of America. Bradley makes her home in Mississippi. Learn more at www.ptbradley.com.

My Review:
A Promise to Protect, Logan Point Book 2
by Patricia Bradley
ISBN 9780800722814
Romance, Suspense, Christian Fiction
Sheriff Ben Logan and Dr. Leigh Somerall dated years ago, ten to be exact. When Tony, Leigh's brother was shot and died in Ben's arms, he promised Tony he would look after Leigh and her young son. He does everything in his power to protect her but she wants to keep her distance. It seems that every time they turn around someone is after Leigh. From break-ins to arson, bombs and snakes Leigh and her son TJ find danger around ever corner. Can Ben and Leigh find a second chance at love or will well hidden secrets destroy keep them apart.
The author Patricia Bradley is a new author to me. I found her novel to be well written with extremely well developed characters. A Promise to Protect is full of action and intrigue with romance thrown in. The author's faith shines through out the novel. The combination of endless action, fast pace and suspense equals a 5 star book sure to keep you at the edge of your seat.
The author Patricia Bradley and publisher Revell hit it out the ball park with this faith filled novel. Thank you for bringing compelling Christian books that are entertaining and give hope to the reader with stories of faith. I was provided with this book in exchange for my honest review and I am so grateful for the authors and publishers generosity.