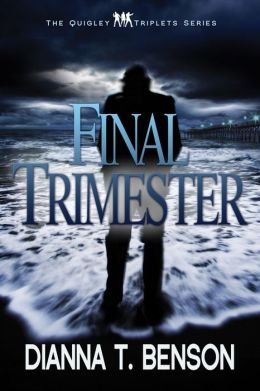 Photos and Book Description from Barnes & Noble
Book Description: Paramedic Jodi Duncan recognizes the work of a serial killer before the Myrtle Beach PD even suspects a connection between the deaths of two pregnant women. Despite the vast differences in the two cases, Jodi urges Detective Nate Quigley to think outside the box. After digging deep into the separate investigations, Nate finds no evidence to support a serial killer theory, and he warns Jodi to back off police business, which only fuels her passion for the cases.
When a third pregnant woman is murdered, Nate is named lead detective on the case and works to link the deaths in order to unmask and stop the serial murderer, a disturbed man who believes God and the devil battle inside his head to bend him according to their wills. As he fights both voices, his interest fixates on Jodi when he discovers her obsession with ending his rampage.
My Review:

Final Trimester, The Quigley Triplets Series by Dianna T. Benson
ISBN 978-1-917844-75-2
Christian, Suspense, Romance Fiction
Paramedic Jodi Duncan wants to be a mother more than anything in the world. She loss a child years ago, she is a foster mom and wants to adopt but because she is single she is having a hard time. Detective Nate Quigley is decided to his job. After the loss of his wife and young son he never wants another child or to be married again, it's just to hard. No matter how many times Nate asks Jodi to back off police business she can not seem to let the idea they have a serial killer on the loose. Before long she has caught the attention of a master of disguise and evil, Campden. Join Jodi and Nate as they fight to stop a serial killer targeting women late in their pregnancy.
Wow, I don't know what to say. Dianna T. Benson is a great new author to me. This was my first book I read by her but I will be reading many others. This book started with a bang and just kept going. Intense action and suspense that will keep you at the edge of your seat. It also includes romance, heartbreak and healing that is only possible by faith in God . I LOVED this novel. I am looking forward to Luke and Abigail's stories in the second and third books of The Quigley Triplets Series. I give Final Trimester 5 stars and highly recommend it to anyone that likes Christian, Suspense, and Romance Fiction.
I want to give a high-five to the author Dianna T. Benson and publisher Ellechor Publishing House for bringing compelling Christian books that are entertaining and give hope to the reader with stories of faith. The Book Club Network Inc. provided me with this book in exchange for my honest review and I am so grateful for their, the authors and publishers generosity.
Other Books By Dianna T. Benson