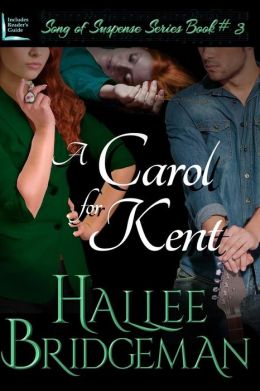 Photos & Book description from Barnes & Noble
Book description: A Ruthless Serial Killer Seeks to End a Love Song Eight Years in the Making
Assistant Commonwealth Attorney CAROL MABRY heads up an investigation into a string of stranglings in Virginia's capital. The serial killer known as Richmond Red remorselessly snuffs out beautiful young women with violin strings before ritually enshrining their lovely lifeless bodies inside a pentagram of blood red candles.

Country music superstar BOBBY KENT makes an unscheduled return trip to his Virginia home for the first time in years. To his shock, he discovers that he and Carol have a young daughter, Lisa. His parents have kept Lisa hidden from him her entire life while simultaneously deceiving Carol about Bobby's interest in fatherhood.

Angry and hurt over the deception, Carol and Bobby strive to cope with this newly discovered reality. They struggle to overcome harmful secrets and years of lies to decide whether they have a future. Neither of them realize how every waking moment they move closer to the serial killer who harbors an unnatural and deadly obsession.

With the beautiful Carol locked in Richmond Red's sites, the clock is ticking down to her destruction. Will the two find love, or is their sonata striking a dangerous final chord?
My review:
A Carol for Kent, Part 3 of the Song of Suspense series by Hallee Bridgeman
ISBN 9781939603272
Suspense, Romance, Christian Fiction
Now this was a great book. It is part of a series but can be read as a stand alone. I really enjoyed the characters especially main character Carol Mabry. She had faith and a strong upstanding personality. She had a child out of wedlock and was told the father wanted nothing to do with her child. She put everything she had into giving her daughter a well rounded life and worked hard to provide for her. Bobby Kent the male main character was someone you could look up to. He had it all, rich's and fame but didn't let it deflect from his high moral standings. His faith was strong and he was a living testimony to Christ working in his life. He fathered a child and knew nothing about her for eight years but stepped up to the plate as soon as he found her. Together Carol and Bobby struggle to deal with the deception they have faced and test the waters to see if they have a future together.
The author Hallee Bridgeman did an outstanding job bringing the characters to life and filling them with a strong faith and high morals. I loved toward the end of the book where she made references to the Book of Mark when Christ cast out a legion of demons into the herd of pigs. I had to an take another look at this and wondered if demons are the real cause to the worlds evils. She really make me look at things in a slightly different way. I highly recommend A Carol for Kent, it is defiantly 5 star worthy. If you have not read A Melody for James or An Aria for Nick, I suggest you check them out they are fantastic books also.
I want to thank the author Hallee Bridgeman and publisher Olivia Kimbrell Press for bringing compelling Christian books that are entertaining and give hope to the reader with stories of faith. I would also like to thank The Book Club Network Inc. for providing me with this book in exchange for my honest review.