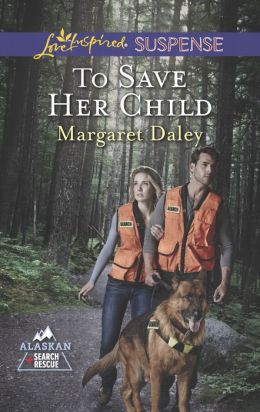 Book Description: In Search of Her Son
When a young boy goes missing from wilderness day camp, Alaskan search and rescue worker Josiah Witherspoon is on the case. The brooding ex-marine promises to find the child and return him to his worried mother. But he doesn't know that Ella Jackson has a secret past. One that could put them all in danger. When tensions mount, Ella needs to tell Josiah the truth—but she can't set aside her fears enough to trust him. Ella and Josiah are ready to risk their lives to save her son, but will they risk their hearts, as well?
Alaskan Search and Rescue: Risking their lives to save the day.
To Save Her Child, Alaskan Search Rescue Series by Margaret Daley
Christian Fiction, Suspense
Love Inspired Suspense
ISBN 9780373446483

Ella Jackson has hidden from her past for the last four years in Alaska. When her young son and two other young boys disappear from Camp Yukon a wilderness camp she wonders if they wandered away or if something more sinister is at play. Josiah Witherspoon is co-owner of Outdoor Alaska and a volunteer at Northern Frontier. He works along with his search and rescue dog Buddy, a black and brown German Sheppard. As an ex-marine he takes on the job of protecting Ella and her son. When a strong friendship develops will the secrets of the past come between them.

I give To Save Her Child 5 stars. I found it to be filled with faith, had action around every corner and hard to put down. The author Margaret Daley did a magnificent job of bringing the characters to life. I found this book to be well written. It held my attention and had me at the edge of my seat.

I want to thank the author Margaret Daley and publisher Love Inspired Suspense for bringing good clean Christian books like this one to readers like me. I was provided with this book in exchange for my honest review. I am so grateful for the authors and publishers generosity.
Other great book